Archive for the 'Story' tag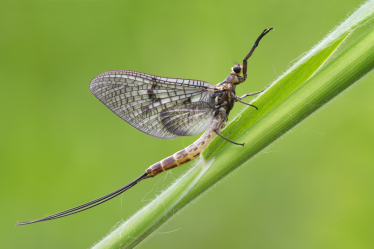 One day, when I was a child, I asked my mother what ephemeral means. She did not answer. Two days later, we went to a stream and in the middle of the grass was a dragonfly-like insect. He moved lightly, and he had the same edacity as the water hitting rocks. His body was yellow, brown, and black, but as he swung his wings, he looked like a gleam of gold.
As it was the weekend, my mother suggested that we spend all the day in that place, watching the routine of that singular insect. Late in the afternoon, after a nap, I woke up and saw him flying toward a small tree. There, he nestled and rested. My mother and I approached a little, and saw that the specimen did not move, it seemed fragile. I thought he was dead.
My mother warned me to be calm. An hour later, the insect deposited a large amount of eggs on one of the most hidden branches, and no longer moved. The flesh simply went away. So I asked what happened. "Why did he die like this, and right now when we came here?" My mother smiled and explained that the insect was actually a female that became an adult in the morning:
Her adult life began shortly before our arrival and ended now. She exists only for others to exist. She barely feeds because time is short, and her children need to be born. That is why her name is Ephemera, and that is what ephemeral means, everything that has a short duration. A word that should always be used in reference to the gifts of communion that we do not have the privilege of enjoying because it is time to go away.